Success
On Thursday the 30.08.2012 at 11:04 CET, the second experimental rocket of the TU Wien Space team launched in Biscarrosse, France. As planned, the rocket separated at apogee releasing the small and later the main parachute. After a soft landing 1.2 km from the launch site "STR-02 Hornet" finished its maiden voyage "VOL NOMINAL" and sent it's GPS Coordinates via RF Telemetry to the control station.
STR-02 Hornet was designed and built in a time frame of 12 months by 8 students with the help of many sponsors and various institutes of the TU Wien.
Technical Details
Diameter 89mm
Length 2,6m
Weight 5000g (without Motor)
54mm Motor (CTI K570)
FMS 2.0 (Nose cone section)
FMS 1.0 (Body tube)
Telemetry, control station
Communication via Opto-Koppler
Rotation stabilizer
Mechanical separation mechanism
GoPro camera
Start detection via Jack
Mini camera at separation point
Pitot tube
Radar
Two staged recovery
Stretch analysis of tubes with strain gauges
Flight Data
Apogee 1800 m, maximum velocity 250m/s (Mach 0.74), maximum acceleration 123m/s², climb duration 16s, separation time 14s,  total flight time 3.5 min.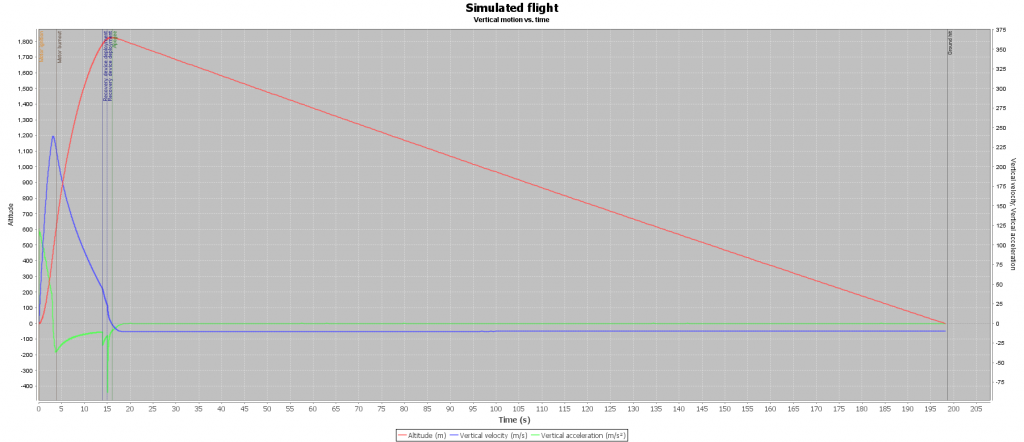 …post-flight-simulation mit OpenRocket