Dear valued Members, Sponsors, Partners, and Fans,
We are proud to announce that we are changing our brand name and corporate identity from SPACE TEAM to SPACE A TEAM. This name change is a result of a rebranding effort to mirror the history as the first Space Team in Austria.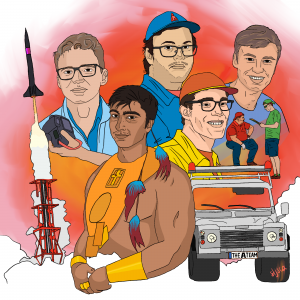 We are celebrating this rebranding with a throwback to the STR09 launch at cspcae in July last year and are hoping that the current situation allows for most launches planned for this year.
Thank you to the incredible @stjsca for this amazing artwork. Make sure to check out her Instagram and follow her for more content.
During all its history, Space Team has been focused on developing experimental rockets, rocket engines, and mini-satellites. Since the founding ten years ago the team has risen from a few people to over one hundred members and over fifty sponsors. Still, our most important mission is to convey knowledge to students and enthusiasts and this goal will never change. 
Nevertheless, our development has undergone a significant evolution since the first Space Team Rocket STR01 and we felt it was time for a change. Our new identity has been designed to satisfy all the existing expectations of what our original brand stands for, while simultaneously moving the organization forward to acknowledge the spirit and develop even better rockets, satellites and space technology than before.
Finally, the change of name will not involve any modifications to the nature and idiosyncrasy of the brand, nor will it in any way affect existing relations with sponsors, partners, members or suppliers.
May we take this opportunity to thank you for your continued support.  
Happy April fools day,
TU Wien Space A Team